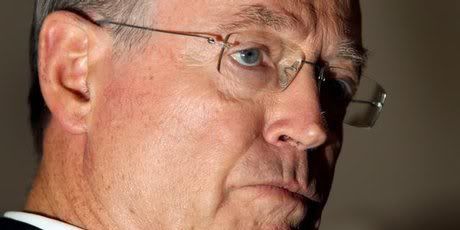 Inflation Buster: As Governor of the Reserve Bank of New Zealand from 1988 until 2002, Dr Don Brash oversaw the anti-inflation programme of the new neoliberal order he had played such a vital role in unleashing upon New Zealand. The financial sector and the ticket-clipping classes were delighted by his success, workers and borrowers paid with stagnating real wages and diminished expectations. And now, an even more frightening spectre looms: Deflation.
THE PROSPECT of zero inflation is difficult for many New Zealanders to grasp. Those of us over fifty will recall the years when the annual inflation rate was this country's most contentious political issue. Hardly surprising, when rates of up to 18 percent were recorded. A nation experiencing that sort of monetary pressure has reason to be concerned.
But, persistent high inflation affects different groups in different ways. Like most human creations, it produces both winners and losers.
In a country where most wage-workers belonged to a trade union, and there were powerful political incentives for the annual round of wage negotiations to produce results roughly reflective of increases in the cost of living, inflation was more of an irritant than a danger. If a worker's union was strong, he and his family could keep ahead of inflation. The members of the weaker unions, however, were forever playing catch-up.
If those workers were the recipient of a 3 percent (!) State Advances loan, however, inflation was their friend. Every year that high inflation persisted, young couples could pay off the mortgage on their first home with dollars that were, in real terms, worth less than when the debt was originally incurred. Persistent levels of high inflation were a huge boon to borrowers.
Between 1965 and 1985, governments of both the left and the right were content to see inflation lift tens-of-thousands of young baby-boomers onto the lower rungs of the property ladder. Indeed, it is possible to argue that the creation and maintenance of National's "property-owning democracy" would have been all-but-impossible without a persistently high rate of inflation.
Persistent high inflation was also of crucial assistance to running an effective welfare state. Thanks to the phenomenon known as "fiscal drag", inflation-driven increases in wages and salaries were constantly lifting workers into higher tax-brackets, allowing the government's own revenue needs to be met without recourse to more regular, explicit, and, therefore, politically unpopular, tax adjustments.
Persistent high inflation's biggest losers, obviously, were those whose loans were being repaid at a fixed rate of interest in devalued dollars, along with people attempting to live on incomes that could not easily be adjusted for the effects of inflation. Returns on investment; the real value of private pensions, annuities and legacies; all tended to fall in circumstances of persistent high inflation.
It is never a good idea for politicians to antagonise those who control their nation's financial system. Equally unwise is a government that even looks like it is prepared to beggar the social class most dependent on legacies, annuities, private pensions and the income generated from investments. That persistent high inflation, with its beneficial impacts on workers, borrowers and social-democratic politicians, would, by the end of the 1970s, convince bankers, rentiers, and other sundry members of the ticket-clipping classes that some pretty major reforms were long overdue, was entirely predictable.
That a constant theme, running through all of the dramatic economic changes of the next 30 years, would be "driving inflation out of the economy", was equally foreseeable. Nor should we be surprised that these reforms neatly reversed the position of winners and losers. That the banks and the ticket-clipping classes would benefit disproportionately from their anti-inflationary crusade was really the whole point of the exercise.
And who, now, can say that inflation isn't beaten? With the inflation rate hovering tantalisingly above zero - nobody. The costs, however, have been substantial.
The radical reduction of trade union power by the Employment Contracts Act shattered the mechanisms that had allowed workers and their families to keep pace with inflation. Despite improvements in workforce productivity, the purchasing power of New Zealand workers' wages has stagnated or declined.
Politicians, too, lost their ability to turn monetary policy to the advantage of workers and borrowers. The moment controlling inflation became the Reserve Bank's first (and some would say only) priority, the old social-democratic goals of full-employment, home ownership for all, and a generous welfare state funded through progressive taxation, became inoperative.
There's a paradox here. As New Zealand's inflation rate declines towards zero, the Reserve Bank must confront the possibility of deflation. But, persistently declining prices are a reflection of declining demand, which is, in its turn, a reflection of oversupply and a market that cannot clear itself except by selling below cost. Deflation is, therefore, the sign of an economy that's slowing down. It is the harbinger of busts, slumps, recessions and (God forbid!) another Great Depression.
Some economists argue that inflation allowed the Free World to pay-off World War II in record time. Others affirm that it underpinned the great post-war boom. Is it pure coincidence then, that at the peak of the boom, inflation was suddenly branded Public Enemy No. 1?
If zero inflation is a triumph, then perhaps we should ask: "For whom?"
This essay was originally published in The Press of Tuesday, 17 March 2015.